Hi
I am having issues when I have multiple datatables on a form. I would like to use about 4 datatables.
There seems to be some timing conflict with the NSB code when I go beyond 3.
It gives the following exception. (Jquery.datatable failed into insertBefore on Node…)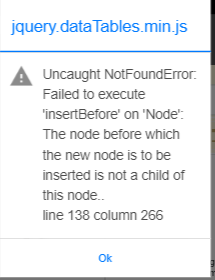 The conflicting code looks like it comes from NSB when it tries to do a build() on the tables from a setTimeout event.
Is there anyway that this can be turned off or is there something else I need to look at?
Many Thanks