Option missing from the Volt builder, Cordova command menu?
This is what I see - what's on your screen?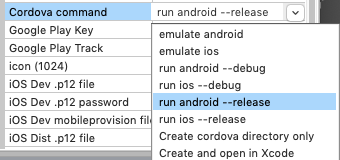 Yes, That gives me a QR code to run on a Device? A couple of days ago I was getting an automatic download of an apk file? Now I don't get an APK file downloaded.

apk file download
Looks like you're choosing the wrong option on the Run menu. You want Make Native App with VoltBuilder.
Yes, I was depolying to server.