Hello,
I'm currently trying to create my own control and add it to AppStudio.
I already
created my own toolbox folder and configured it in AppStudio preferences
made a copy of the original "Toolbox.json" file (and removed unnecessary categories or added my own control category)
set up a trivial control with static (literal) "_htmltemplate" and saved the associated ".json" file in a subfolder of my own toolbox folder
After restarting AppStudio, everything worked as desired.
But now I would like to add my own (JS) code and let "_htmltemplate" invoke a function - and that fails because AppStudio does not find the file I mentioned in "_requiredfiles"!
The actual error message I get in the IDE whenever I try to add my new custom control to a form looks like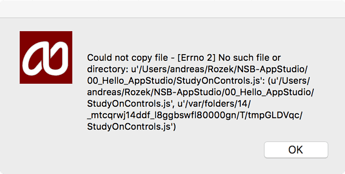 with varying paths depending on what I'm currently trying…
PS: everything works fine if I specify the full absolute file path in "_requiredfiles" - but that's something I would like to avoid and use Toolbox-relative paths instead.
Is there a list of AppStudio variables with some explanation? (e.g., what is the meaning of "_nsbdir"? is it the web apps folder? or that of the toolbox folder(s)?)
Or even better: is there an explanation of how to add one's own controls?
Thanks in advance for any help!
With greetings from Germany,
Andreas Rozek