A VoltBuilder Log View Button even when build is succcessful would be nice
Good suggestion - I'll add it to our list.
Wait - it does show a view log button on success. Can you show me what you are seeing?
Cannot. Waited forever. After a lot of minutes I got a no success message.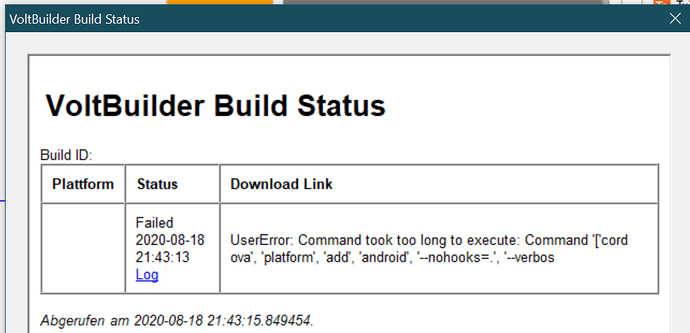 Your other volt.build website is said to have a log button on success.
Here's what I get on a successful build. See the Log link?

The UserError is because the job took more than 5 minutes to process, a limit we impose. Can you try it again?
Ah! I don't have my AppStudio configured to automatically download. It's that extra step which replaces the log link.
We should be able to fix this.
I did. I sent you the screenshot.
OK, so the problem cleared up on the next build. Thank you!
Today, Aug 25, I tried VoltBuilder again. Waited for a rather long time. Got:
Error -1 returned from VoltBuilder: Could not connect to VoltBuilder server: HTTPSConnectionPool(host='api.volt.build', port=443): Max retries exceeded with url: /v1/app/ (Caused by SSLError(SSLWantWriteError(3, 'The operation did not complete (write) (_ssl.c:2457)')))
Some minutes later I tried again. Waited. Then asked for VoltBuilder Status. Got message that build and download OK. Did not notice the given date stamp. Downloaded to device via QR code. Rather astonished that it was a completely obsolete version, from Aug 18.
Next thing I got after one or two clicks: Error 401 returned from VoltBuilder: Not authorized
Can you do another build this morning and post what appears in the VoltBuilder Status screen? I'll try to see what is happening here.
Worked. Message "upload" to "ready" needed 30 sec, waiting for download link about another minute.
Download was up to date, app from Aug 26.
Download via QR to Smartphone still needs to copy link from clipboard to address line in Browser and further clicks.
Status Screen: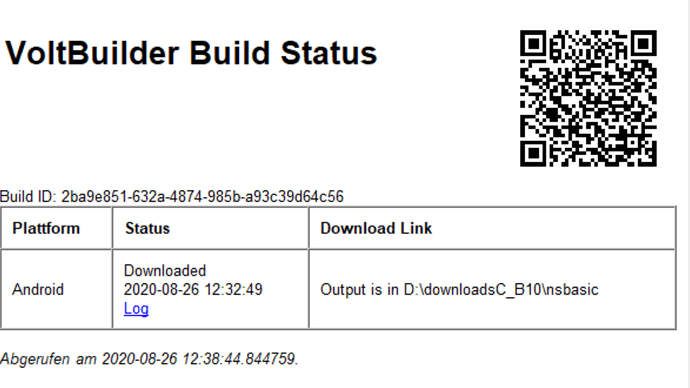 Just a thought: Could it be that automatic download to folder causes the overly complex installation procedure on Smartphone?
A few minutes ago I did another build. OK.
Thanks for adding the Log link.
I just tried the QR code a couple of posts ago. It worked OK: I now have a nice app about butterflies on my phone.
It seems different Android devices have a different procedure for installing from a QR code. Perhaps try some different phones to see what happens.
Attention. Butterflies are John2's product. I solely helped testing.
A few weeks or months ago reading the QR code and get it installed was quick and easy with the same device, Samsung Galaxy S10. There were changes with AppStudio versions, VoltBuilder and perhaps Android version 9 to 10. If Android update caused the complications then perhaps people with S10 and Android 10 should get a similar experience. I can cope with this complication after having learned how to get the app downloaded and installed. I only thought I should tell you that the procedure seems to be not so extremely luxurious for some developers.